WE ARE MORE THAN A DIVE CLUB!



Friendship and Fellowship
Year-Round Social Events
Entry-Level Diver Training
Most Advanced Levels of PADI Training
Information on Local Dive Sites
History of Service to our members and the Community
2019 Calendar of Events
(Contact information for Triton-in-Charge {TIC} available from newsletter found on this website.) The current issue of the Triton Trib
Tuesday, June 25, 2019,
7:30 PM at

Tap House Grill
1472 Market St., Suite 103-A
Des Plaines, IL 60016
map active link
Saturday, April 27
Dinner & Show:
"9 to 5, the Musical"
Des Plaines, IL
TIC: Pam Romund
Sunday, May 5
Cinco de Mayo
visit National Museum of Mexian Art
then Taqueria Las Camales for food
TIC: Leticia Huerta
Saturday, May 18
"Untouchable" Bus Tour of Chicago north side
TIC: Chris Demski
Sunday, May 26
Memorial Day Bike, Walk & Eat
TIC: Milt & Margy Levenberg
Sunday, June 9
Season Dive Opener
TIC: Mike Leibovitz, Dave Vemmer
Saturday, June 29
Chicago Riverwalk Tour
TIC: Pam Romund
Wednesday, July 10
Midweek dive
TIC needed
Saturday, July 13
Willy Dive - PM Dive
TIC: Steve Leibovitz
Saturday, July 27
Chicago Dogs Baseball
TIC: Angi McKeon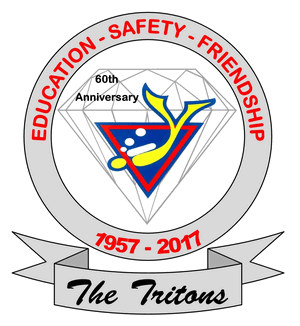 LEARN TO SCUBA DIVE
Learn the fundamentals of diving. During these five sessions you will master all of the skills necessary to become a certified scuba diver.

Prospect High School (Aquatic Center – Door 25C)
801 West Kensington Road,
Mount Prospect, Illinois 60056

The school is located just West of the intersection of Route 83 and Route 12 (west of Randhurst Shopping Center).

For more information, contact us.